Helicopter Tour in Maui
Experience an extraordinary Maui helicopter tour that unveils the island's unparalleled beauty in a 70-minute flight. Step into an ECO-Star aircraft, boasting wraparound views, ensuring you don't miss a single breathtaking moment of this aerial journey. Booking times are conveniently available daily from 8:00 AM to 6:00 PM, offering flexibility to fit your schedule. With seven individual front-facing seats featuring elevated "theater-style" seating in the rear, you'll be perfectly positioned to absorb every awe-inspiring sight.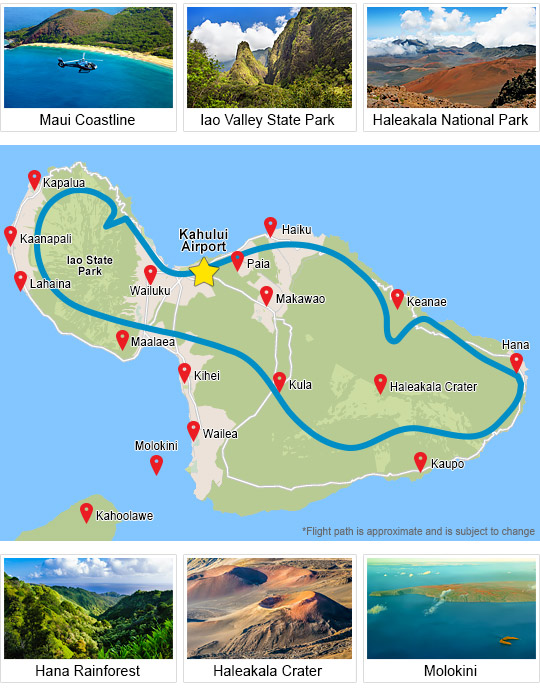 Maui, Hawaii's second largest island, reveals its splendor like never before on this world-class helicopter adventure. Imagine turquoise waters, pristine beaches, and diverse landscapes stretching out before you – a scene that seems almost surreal.
Bask in the luxury of a leisurely 70-minute flight over this captivating island. As you soar, immerse yourself in the fascinating history and secrets of Maui's landscape. The scope and allure of this experience are simply epic.
Your Maui helicopter tour commences as you take off and traverse the expansive Haleakala National Park, a 30,000-acre expanse enveloping the active Haleakala Volcano. From your elevated vantage point, witness unparalleled views of the ancient crater, a sight that's nothing short of mesmerizing.
Next, journey to the renowned Hana Rainforest, the largest in America. This lush sanctuary unveils hidden waterfalls, bamboo forests, and a tapestry of incredible wildlife, offering an enchanting experience that's truly unique.
The West Maui Mountains and Iao Valley State Park come into view next, showcasing the most vibrant and verdant mountain peaks you'll ever encounter. And then, there are the beaches – Lahaina, Wailea, Hana, Kapalua, and Kaanapali. Each is home to some of the world's most exquisite beaches, adding to the visual feast you'll savor from above.
It's nothing short of paradise, a visual symphony that defies description. The magic of Maui unfolds from hundreds of feet above, presenting an unparalleled perspective that words can't adequately capture. This territory is so striking that its true grandeur can only be experienced.
In summary, this Maui helicopter tour offers a truly exceptional encounter with the island's natural beauty. Book your spot now and allow yourself to be transported to a realm of wonder that transcends imagination.
Tour Inclusions and Points of Interest:
Depart from Kahului Airport and travel to the Friendly Isle, Molokai.
Visit the largest sea cliffs in the world and towering waterfalls including Kahiwa Falls, the tallest in all of Hawaii.
Swoop over to the North Shore where you'll encounter the Halawa Valley and lava-rock encircled fish ponds of Molokai.
Next, it's on to the Pailolo Channel, home to the bluest of blue waters and Elephant Rock, a natural formation that yes, looks like an elephant.
On to Maui! Here, head to Iao Valley State Park on the Island's western portion.
Book your Scenic Helicopter Tour Maui experience today.