Maui Helicopter Tours

Adrenaline's Maui Helicopter Tours take you to Maui's most scenic spots accessible only by air. And by pre booking you get the option of flying in a 'Doors Off" helicopter.
Helicopter Tours of Maui's west side are a spectacular journey through Hawaii's most pristine natural landscape. Majestic mountains, white sand and water so clear you'll be able to see the marine life swimming below the surface. Book the BEST seat in the house with Maui Helicopter Tours.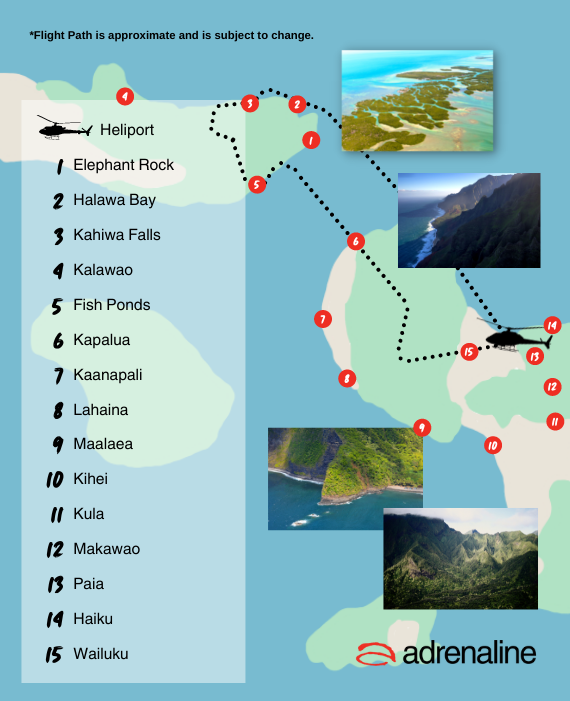 Optional "Doors Off" Maui Helicopter Tour
Fly in a Eurocopter AS350, a passenger helicopter that's no stranger to adventure (this particular model has seen the top of Mount Everest!)
Enjoy a 45-minute Maui helicopter tour that takes you deep into the haunting valleys and ridges of the West Maui Mountains.
Head to Molokai's north shore, a spot that can only be reached by our Maui Helicopter Tours
Here, you'll marvel (and photograph) the stunning waterfalls and cliff sides!
Enjoy nearly an hour of flight time exploring Hawaii's many beautiful nooks and crannies. You won't find a more thrilling way to spend a sunny afternoon in the Aloha State. You'll also want a camera on hand. The beautiful photo ops our Maui Helicopter Tours give you are very rare indeed.