Grand Canyon South Rim Helicopter Tour
Important to know there is nothing more to pay on the day! Your Heliport fees and fuel surcharge fees are included in the price.
Elevate your experience with an unforgettable adventure in the skies above the Grand Canyon's South Rim!
This grand canyon south rim helicopter tour promises to deliver breathtaking views and memories that will last a lifetime.
Embark on a journey that will take you to some of the most iconic and picturesque landscapes in America. Imagine capturing the majestic beauty of the Grand Canyon from up close, as you glide near every crevasse and witness its awe-inspiring grandeur.
What sets our South Rim helicopter tour apart is its all-inclusive nature. You won't encounter any additional fees on the day of the tour – heliport fees and fuel surcharges are covered in the price. For a mesmerizing 25 minutes, immerse yourself in the sprawling scenery that has captivated people around the world. Departing from the South Rim, your journey begins with a hover over the Kaibab National Forest. Marvel at the expansive ponderosa pine forest, a haven for diverse wildlife and the world's largest of its kind.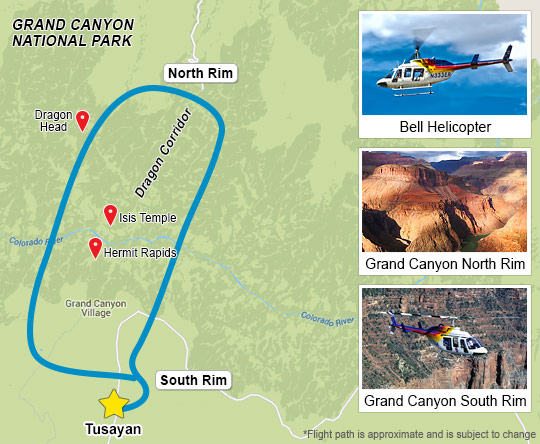 As you transition from the South Rim to the North Rim, prepare to be awestruck. The panoramic views are nothing short of spectacular. The journey offers glimpses of the Desert View Watchtower, standing tall at 70 feet, and the breathtaking color variations of the Painted Desert.
Experience the grandeur of the Colorado River as you traverse its course, catching sight of Marble Canyon and the majestic Point Imperial on the North Rim. Your aerial expedition will grant you a unique overhead perspective of the North Rim as you make your way to the Dragon Corridor – the widest and deepest section of the canyon.
But the adventure doesn't end there. Circle back over the South Rim and Kaibab before your graceful descent at the Grand Canyon National Park Airport. Your ECO-Star helicopters ensure a comfortable and immersive journey, with seven individual front-facing seats designed with raised "theater-style" seating in the rear.
Booking is available daily from 8:00 AM to 4:30 PM, offering flexible options to suit your schedule. Keep in mind that you'll be sharing this experience with other enthralled passengers, as you enjoy the best grand canyon helicopter tour the South Rim has to offer. Please note that this tour departs from the Grand Canyon National Park Airport in Arizona, which is approximately a four-hour drive from Las Vegas.
Tour inclusions:
25-minute flight of the Grand Canyon
Amazing photo opportunities of the South Rim, the Colorado River, the North Rim and more!
Riding an ECO-Star helicopters with 7 Individual front-facing seats with raised "theater-style" seating in rear
Book your Helicopter Tour Grand Canyon South Rim - 25 Minutes experience today!