Helicopter Tour in Maui
Experience the pinnacle of Maui's beauty with our extraordinary helicopter tour. As legendary as the island itself, this journey promises an hour of awe-inspiring vistas that define Hawaii's allure. Embark on a captivating exploration, soaring above two magnificent islands and immersing yourself in Hawaii's undeniable splendor. From dramatic cliff sides to cascading waterfalls, lush rainforests to distant dormant volcanoes, every moment is a magical encounter with nature's wonders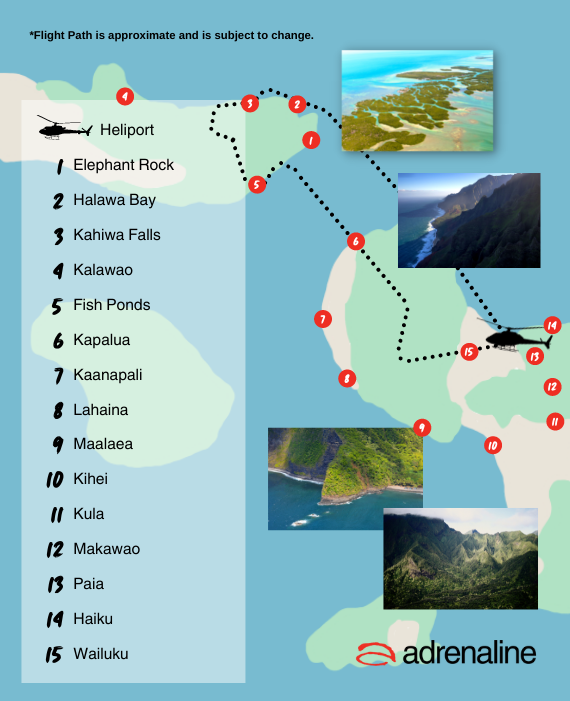 Your adventure begins at Kahului Airport as you depart for the Friendly Isle, Molokai. Prepare to be captivated by the world's largest sea cliffs and the majestic Kahiwa Falls – the tallest waterfall in all of Hawaii. Glide over to Molokai's North Shore, where the Halawa Valley and lava-rock encircled fish ponds paint a picturesque scene. Traverse the mesmerizing Pailolo Channel, renowned for its striking blue waters and the remarkable Elephant Rock, a natural formation that resembles its namesake.
The journey continues to the heart of Maui, where the Island's western portion unveils the breathtaking Iao Valley State Park. A realm of lush greenery and enchanting landscapes awaits, inviting you to revel in Hawaii's abundant natural beauty.
Imagine relishing every awe-inspiring vista from the comfort of our state-of-the-art helicopter, designed to offer the best possible views. Our Maui helicopter tour grants you an unmatched perspective of the world-renowned scenery that has made this region a global gem. As you traverse the skies, you'll understand why this tour is hailed as one of the best helicopter tours in Maui and Hawaii.
This is your opportunity to be a part of nature's grand spectacle, to witness its majestic offerings from a perspective that few ever experience. Hawaii's captivating landscapes are yours to explore – from the towering sea cliffs to the vibrant rainforests, from the North Shore's hidden gems to the impressive volcanic panoramas.
Don't just read about it – embark on this extraordinary Maui helicopter tour and let the splendors of Hawaii unfold before you in a way that words cannot capture.
Tour Inclusions and Points of Interest:
Depart from Kahului Airport and travel to the Friendly Isle, Molokai.
Visit the largest sea cliffs in the world and towering waterfalls including Kahiwa Falls, the tallest in all of Hawaii.
Swoop over to the North Shore where you'll encounter the Halawa Valley and lava-rock encircled fish ponds of Molokai.
Next, it's on to the Pailolo Channel, home to the bluest of blue waters and Elephant Rock, a natural formation that yes, looks like an elephant.
On to Maui! Here, head to Iao Valley State Park on the Island's western portion.
Book your Scenic Helicopter Tour Maui experience today.