Private Helicopter Ride Detroit
Elevate your Detroit experience with an extraordinary private helicopter tour, perfect for creating cherished memories with your loved ones. Embark on a unique adventure that promises unparalleled views of this iconic city and its captivating landmarks. As you soar above the cityscape, you'll be treated to the dazzling sight of downtown Detroit's towering skyscrapers and the glamorous residences of rock stars. Traverse the rich tapestry of history, art museums, and tranquil parks that make up the heart of Detroit's character, all while basking in the architectural grandeur that defines its skyline.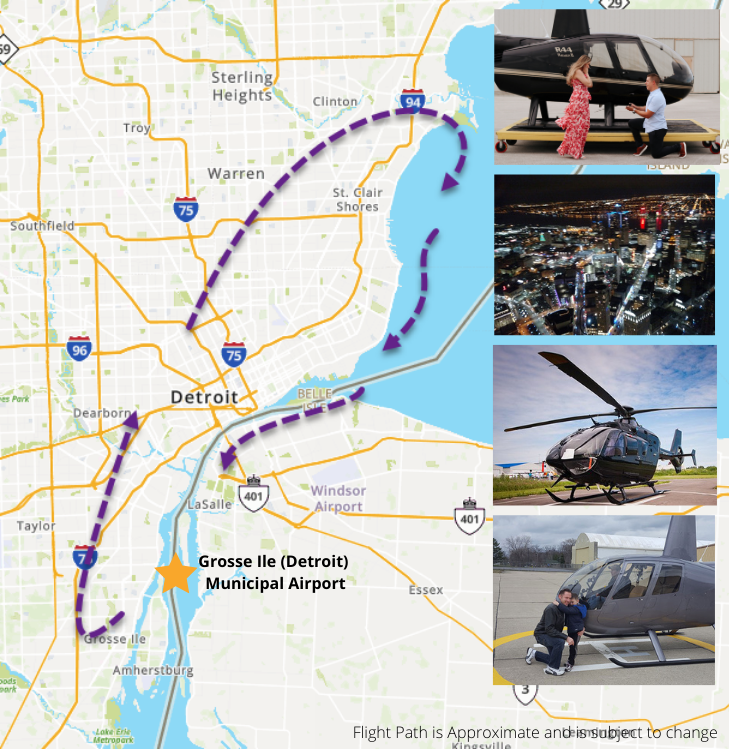 Explore the vibrant energy of downtown, encompassing the renowned man-made beach, eclectic food trucks, and world-class festivals like The Beach, each adding to the city's vibrant tapestry. A leisurely stroll along the Detroit Riverwalk offers a serene escape, with the added delight of urban adventures on The Rink, Michigan's premier public ice skating rink, during holidays.
While meandering through the Motor City's landscape, witness some of the world's oldest automobile factories, a testament to Detroit's storied history. Your FAA-certified pilot will enhance your flight with intriguing facts and anecdotes, adding depth to your journey. Fly in state-of-the-art helicopters, accompanied by experienced instructors committed to ensuring your safety and enjoyment.
Invite two friends to share in this remarkable private helicopter tour, promising moments that are not only awe-inspiring but also Instagram-worthy. Capture the magic of Detroit's transformation under the setting sun, all while experiencing the thrill of flight and exploration from above.
For those seeking a dash of adventure, embrace the opportunity to book the Private Helicopter Tour, Detroit - a 30-minute escapade that guarantees a fresh perspective on this iconic city. Immerse yourself in a journey that combines history, beauty, and modernity in one unforgettable experience.
Tour Inclusions:
Take a 30 minute helicopter ride over Detroit.
Explore the city skyline and learn all about its diverse architectural styles.
Get amazing views of the Ambassador Bridge, connecting us to our brothers from the North.
Swoop over the homes of rock stars!
Enjoy amazing overhead views of Belle Isle, designed by the great Fredrick Law Olmsted.
Learn all about Detroit's 300-year-old history from your pilot!
Book your Private Helicopter Tour Detroit experience today!