Doors-Off Helicopter Ride Detroit
Discover the captivating architecture of Detroit as you embark on an exhilarating doors-off helicopter tour that promises awe-inspiring views and unforgettable memories. Imagine soaring above the city's iconic skyline and verdant landscapes, feeling the rush of the open sky and the embrace of the city wind. This helicopter ride in Detroit takes you on a 20-minute adventure starting from the vibrant south suburbs, offering up-close perspectives of towering structures and lush greenery that you won't find anywhere else.
Picture yourself gliding along the shimmering Detroit River, catching a glimpse of Fighting Island just beyond the Canadian border. As you sweep over charming towns like Grosse Ile, Riverview, and Wyandotte, you'll be treated to panoramic vistas that reveal the city's diverse beauty. The journey doesn't stop there – your helicopter will carry you high above Wayne County's scenic landscapes, showcasing Detroit natural allure in a way that only a doors-off flight can provide.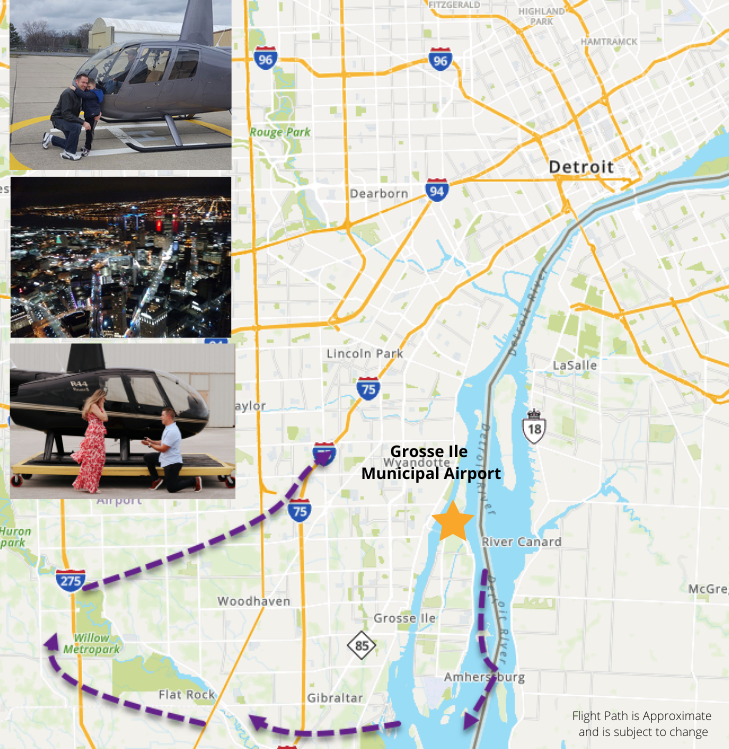 Detroit, often hailed as America's manufacturing beacon, boasts a treasure trove of architectural wonders and lush landscapes that deserve to be explored from a fresh perspective. By embarking on this doors-off helicopter ride over Detroit, you'll gain an entirely new appreciation for the city's magnificence. The unique angle of the Detroit flight allows you to capture every architectural detail and immerse yourself in the surrounding beauty.
Ready to turn your imagination into reality? Secure your spot on a 20-minute Detroit helicopter tour today to embark on a journey that promises unparalleled views, heart-pounding excitement, and a deeper connection to the city's rich history and vibrant present. Whether you're a photography enthusiast or simply seeking an unforgettable experience, this doors-off helicopter ride in Detroit is your ticket to discovering the city like never before.
Tour Inclusions:
20 minute doors-off helicopter flight of Detroit's south suburbs and skyline.
Soar high along the Detroit River and marvel at Fighting Island just over the Canadian border.
Swoop over Grosse Ile, Riverview, and Wyandotte.
Travel high above scenic Wayne County!
Book your Doors-Off Helicopter Ride Detroit today!