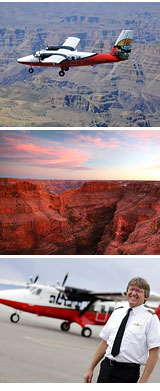 Enjoy your 45-minute Grand Canyon flight in an air-conditioned plane.
High wings and huge windows mean practically zero obstruction for your photo session!
Fly over Zuni Corridor and Imperial Point.
Get a bird's eye view of the Confluence of Colorado and the Little Colorado Rivers.
Travel above Kaibab National Forest and Kaibab Plateau
Learn all about the scenery with an in-flight narration, offered in 16 languages.
The vistas are out of this world, combining desert scenery, splashes of greenery, stunning red formations and turquoise waterways! See age-old sights still untouched by man while learning all about America's most revered landscape!