Get an eyeful with this helicopter sightseeing flight over Oahu!
Hawaii's most populated island is also home to some of the finest scenery in the Nation! Here, you'll soar high above everywhere from the Aloha Tower to the Gold Coast and Mount Olomana.

Here's some of the sights you'll see:
Travel in style. The six-passenger Eurocopter AS350 is equipped with a spacious, air-conditioned cabin and an engine that offers low-vibration cruising. It's the perfect sightseeing aircraft.
Head past Keehi Lagoon and take in the soaring beauty of the Aloha Tower at Honolulu Harbor. It's one of the tallest structures in the state!
Fly to downtown Honolulu and travel over the Punchbowl, the National Memorial Cemetery of the Pacific and the royal palace.
Continue to Ala Moana Beach Park, Magic Island, the Ala Wai Yacht Harbor and Waikiki Beach.
Past this, you'll discover the Diamond Head Crater, which from above is certainly one of the most breathtaking natural wonders you'll ever encounter.
Then it's onto the jet-setting destinations of the Gold Coast and Hanauma Bay.
Eastbound, you'll fly over Sandy Beach, Makapuu Point Lighthouse and Sea Life Park (Magnum PI's old stomping ground!)
Finally, be whisked away to Mount Olomana and Nuuanu Pali, a famed battleground for Kin Kamehameha's soldiers.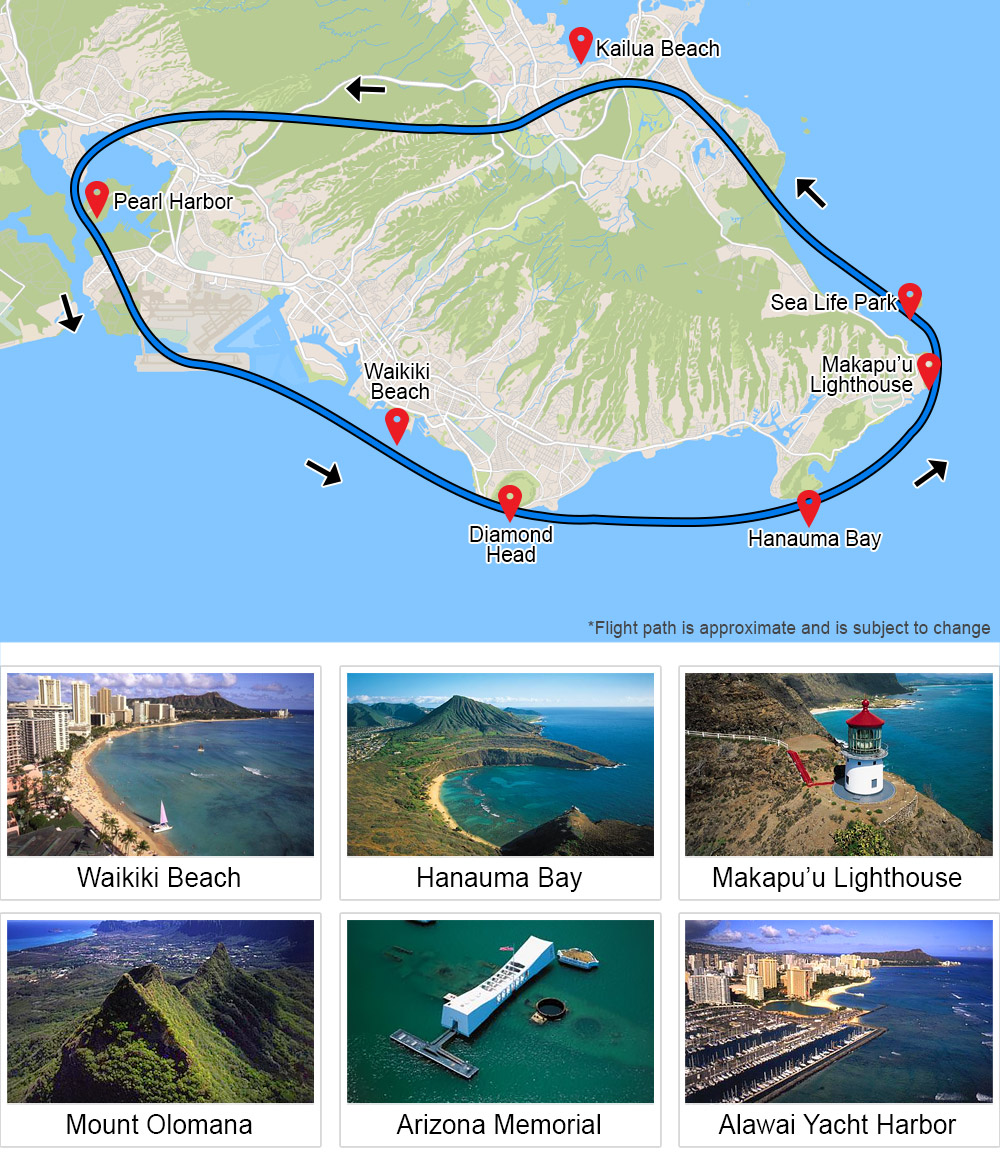 Thirty minutes of unrivaled sightseeing in a sleek, air-conditioned chopper, there's no better way to kick start your getaway to America's paradise!