Helicopter Tour Orlando Space Coast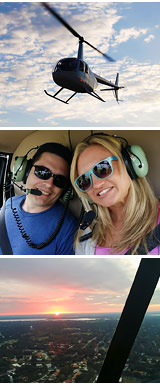 Houston we have don't have a problem! Not in Florida at least! We have an exhilarating Tour that is out of this world! Take a thrilling ride to the Space Coast to witness where humans lifted off and the heart of the American Space Program. Skip the queues of traffic, long lines and get a birds-eye view that few can say they've experienced!

On this 1-hour mission, you will see:Port Canaveral, The NASA Vehicle Assembly Building, The Rocket Garden, The infamous NASA Shuttle runway!
Your package includes:
60-Minute helicopter tour from Kissimmee to the Space Coast in a R44 Raven II
Overhead views of notable historical landmarks
Expert narration throughout the flight from our trained FAA Pilots
All of this in a jam-packed heli hour Tour that has you back in time for your next activity as you'll experience no traffic, no lines in what is one of the marvels of mankind! Depart from Kissimmee just South of Orlando in a Raven R44 Helicopter which are made for touring with unmatched visibility from each seat.
Book your Helicopter Tour Orlando Space Coast today!