Warbird Flight and Piloting, Orlando - 30 Minute Flight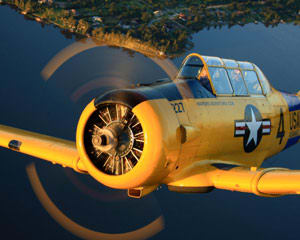 Pilot a T-6 Texan like the aces of yester-year for 30 minutes over the Orlando, Florida region.
Item: OR14725LA
Our Price:
$

490

Lowest Price

Guarantee


Description

Pilot a T-6 Texan like the aces of yester-year over the Orlando, Florida region.

Whether you 've never been in an airplane before or you've logged countless hours in your pilot book, you'll take control of a T-6 Texan. The T-6 Texan was the premier fighter-trainer during WWII and has rightfully earned the name of "pilot-maker."

With the help of an experienced instructor, you'll be at the controls to taxi, take-off, fly and land. Not only that, but depending on experience you might even get the chance to perform exciting aerobatics including rolls, spins, loops and many more dashing feats.

30 minute flight in a T-6 Texan
Additional 10 minutes in the airplane getting accustomed to the controls
Expert supervision by experienced pilots
Unparalleled views of the Orlando area

You never know, this "pilot-maker" might make a pilot out of you. So if you're in Orlando and looking to fly a warbird, this is for you.

Intensity: 4.0

Awesome This is getting to the pointy end. Heights, speed, endurance or a combination of all form part of this adventure. Be prepared to be challenged both physically and mentally. Bring that 'can do' attitude and maybe a change of clothes. You're about to get a taste of Serious Fun!

Experience Details

Fitness and Experience

No experience necessary
Minimum height of 48 inches
Maximum weight of 255lbs.

What to Bring/Wear

Wear comfortable clothing
Camera(s)
Enclosed footwear
Hat, sunscreen and sun glasses will help keep the sun off

What is Supplied

30 minute Warbird flight
Pilot the Warbird under the supervision of an experienced instructor

More Information

Flights are available Monday to Saturday from 9:00am-4:00pm
Photo and Video packages available ($25-$50)
Available Dates

Why Adrenaline?
Low price guarantee
Fully flexible gift certificates
Gift certificates valid for 5 years
Certificates valid for any experience
Expert consultants
Thousands of reviews
Safe & secure shopping
FREE Shipping for orders over $119
Location
Kissimmee (Orlando)
With planes capable of going up to 250 mph and climbing up to 3200 feet per minute, your pilot will take you through an aerobatic routine you'll never forget. Barrel rolls, straight up loops, inverted flights, insane vertical climbs and more may all be part of a routine that is as wild or mild as you like. Book Now!