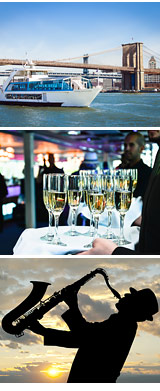 Of the many spots there are to brunch in New York City, this one's certainly off the beaten trail. In fact, it's not even on a trail at all. This Manhattan brunch cruise takes you to all the famous landmarks (Empire State Building, Brooklyn Bridge, Ellis Island) for two-hours aboard a vessel stretching over 150 feet!
Bring both a camera and an appetite—complementing the top-notch views is a brunch buffet for a king. And to top it all off, a live jazz band and a DJ serenade you throughout the entire delicious journey.
Kick back on deck and breathe in the beautiful skyline.
Head to the dining area where you'll find four gourmet stations of assorted delicacies including roast beef, waffles, quiche, poached salmon and more!
Dine among the tunes of a live jazz band and DJ, keeping your swinging Sunday vibe in check.
Free-flowing mimosas on offer.
Drift along numerous points of interest with privileged views of it all.
Mimosas, live jazz and big city sites, all aboard a luxury yacht. What better way to fuel up for a Sunday in the Big Apple?
Book now!