Receive $15 OFF when you spend $79 or more in one transaction. Simply enter the promo code 15FINAL at checkout. Limit of one promo code per purchaser per transaction. Not valid for Gift Certificate redemptions or in conjunction with the $250 Gift Certificate promotion.
Free Exchanges on all Gift Certificates
14 Day Returns on all Gift Certificates
Gift Certificates valid for 5 years
Free Shipping for Gifts over $119
Safe & Secure online Shopping

Skydive Tecumseh - 9,000ft Jump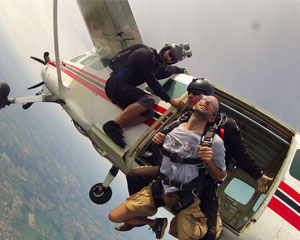 Item:
SK15674YD
Location: Napoleon Airport (Napoleon)
Our Price:
$

235

Safe, Secure Shopping
Description
20 second free fall!
10 minute flight to altitude of 9,000 feet
Minimal training required
USPA certified dropzone and instructors
Skydiving is an experience unlike any other. The thrill of free falling thousands of feet is a feeling you will remember for the rest of your life. Even with all the insane emotion and excitement attached with skydiving it is also an extremely safe and easy experience; especially during a tandem skydive with one of our professional instructors who have logged thousands of jumps!
During the briefing session at the jump facility you and your tandem pro skydiving instructor will rehearse a few different techniques that will ensure your safety and knowledge of how to properly jump. The ground training session will also cover all methods of canopy control and safe landing actions. As soon as your instructor is confident that you are capable of jumping safely it is time for the 10 minute flight to an altitude of 9,000ft.
Intensity:
4.0

Next Available Dates
23 Oct 16 (Sunday)
Full
24 Oct 16 (Monday)

Places

Book now

27 Oct 16 (Thursday)

Places

Book now

28 Oct 16 (Friday)

Places

Book now

29 Oct 16 (Saturday)

Places

Book now

30 Oct 16 (Sunday)

Places

Book now

31 Oct 16 (Monday)

Places

Book now

03 Nov 16 (Thursday)

Places

Book now

04 Nov 16 (Friday)

Places

Book now

05 Nov 16 (Saturday)

Places

Book now

06 Nov 16 (Sunday)

Places

Book now

12 Nov 16 (Saturday)
Full
13 Nov 16 (Sunday)
Full
Experience Details
Fitness and Experience
No particular level of fitness is required as training is included
People with epilepsy or heart conditions cannot jump
No experience is required as necessary training is part of the Jump
Must be at least 18 years old to skydive
You must not be pregnant
Max weight 230 lbs.
What to Bring/Wear
Wear comfortable clothing suitable to the weather
Wear gym shoes only
Proper ID
Camera(s) and plenty of Courage!
What is Supplied
30 second freefall
We provide everything you need
Professional Tandem Master Jump
Briefing and Instructions
All necessary gear
An experience you will be telling all your friends about!

More Information
Booking times are available Monday 10AM-Sunset, Thursday 12PM to Sunset, Friday 10AM to Sunset, Saturday 8AM to Sunset and Sunday 8AM to Sunset
You could be at the drop zone for up to 5 hours
Please allow a half a day in case weather delays the jump
Spectators are more than welcome to come and watch
DVD and Photos packages available on the day
This Jump zone is affiliated with the United States Parachute Association (USPA) and is governed by the Federal Aviation Administration (FAA).
Related Experiences or Products
Why Choose Adrenaline?
Low price guarantee
Fully flexible gift certificates
Gift certificates valid for 5 years
Certificates valid for any experience
Expert consultants
Thousands of reviews
Safe & secure shopping
FREE Shipping for orders over $119