Fighter Jet Experience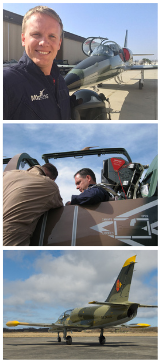 Adrenaline's Fighter Jet Rides Los Angeles are truly a white-knuckle adventure which gives you the rare opportunity to fly a real fighter jet, an L-39 Albatross.
Perform daring manoeuvres in one of the world's most celebrated fighter jets. The L-39 Albatross has served in nearly 50 countries and is still used today for military training exercises—now's your chance to give it a whirl just outside of LA!
This jet fighter experience is the real deal; the techniques you'll learn are those performed in actual military training programs. At the start of the adventure, you'll chat with your co-pilot—a decorated veteran—to gauge your comfort level and create a tailor-made program that ensures you get the most out of every minute. After learning the ropes, you'll take to the sky to attempt rolls, loops, tail chases and Immelmann turns!
Take a 60-minute jet fighter experience and fly an L-39 Albatross!
Create a tailor-made flight program with a veteran military pilot.
Get a thorough rundown of the aircraft's mechanics and learn all about its storied history.
Learn REAL maneuvers practiced in REAL military training programs!
Follow your co-pilot's instructions to master rolls, loops and tail chases!
Attempt a split-s and several deep dives!
Embrace the adrenaline as you conquer the famous Immelmann turn!
This isn't some in-and-out jaunt. The entire experience clocks an hour, so you'll have ample time to master the many moves. Before the adventure's over, you'll be performing aerial stunts just like Maverick and Iceman!
Book this authentic fighter jet experience now!