Fighter Jet Rides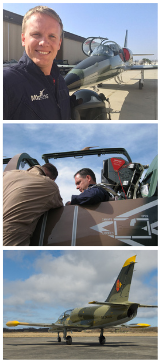 Adrenaline's Fighter Jet Rides Los Angeles are truly a white-knuckle adventure which gives you the rare opportunity to fly a real fighter jet, an L-39 Albatross.
This white-knuckle adventure gives you the rare opportunity to fly a fighter jet. That's right—you're not just along for the ride…. With this experience, you actually get to man an L-39 Albatross just outside of LA!
To begin the journey, a highly decorated veteran pilot gives you a fascinating history of the aircraft (it's still in use today for military exercises). After learning the nuts and bolts, you're geared up and seated in the tandem cockpit. Your heart races as your co-pilot takes off with powerful acceleration—this ain't no commercial aircraft!
Above the clouds, your flying buddy breaks down a few hair-raising maneuvers and then lets you take over the yoke. You'll learn several air combat tactics such as the split-s and loops. These are actual maneuvers from actual military training programs—everything on this flight is the real deal!
Fly an L-39 Albatross on this 45-minute jet fighter experience!
Get teamed up with a veteran military pilot.
Discuss your comfort level to determine the types of moves your program should include.
Learn firsthand many of the thrilling maneuvers performed in REAL military training programs!
Feel your heart race as you practice the split-s and deep dives!
Performs rolls, loops and tail chases!
Master the legendary Immelmann turn!
No certification required—all you need is a thirst for excitement and a yearning to learn something new! In fact, you'll be surprised at just how intuitive it is to maneuver the L-39; within the first few minutes, you'll feel like an ace.
Book your fighter jet experience now!