Tactical Firearms Experience, Black Ops Package - Las Vegas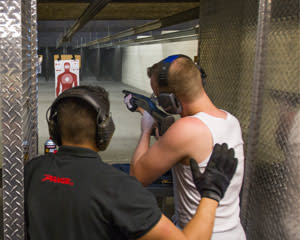 Fire off some rounds at the largest shooting range in Nevada, located right off the Las Vegas strip.
Item: FI14893RE
Our Price:
$

165

Lowest Price

Guarantee


Description

Fire off some rounds at the largest shooting range in Nevada, located right off the Las Vegas strip.

The sensational experience of firing a machine gun can only be experienced first hand. Your experience at the range will include firing some classic firearms – from the 9mm handgun to the SAW light machine gun. The professional staff will make sure each and everyone in your party has a safe and exciting experience. You'll get to hold and fire:

MP5 (25 rounds) – 9mm submachine gun
M4 (25 rounds) – sub-machine gun
SAW (40 rounds) – a light machine gun, but wait until you see it. It isn't so light!
9mm Handgun (10 rounds)

You'll be given targets and professional service. Enjoy some Vegas fun with a bang!

Intensity: 4.0

Awesome This is getting to the pointy end. Heights, speed, endurance or a combination of all form part of this adventure. Be prepared to be challenged both physically and mentally. Bring that 'can do' attitude and maybe a change of clothes. You're about to get a taste of Serious Fun!

Experience Details

Fitness and Experience

Minors must be at least 10 years of age to shoot
Minors under the age of 18 must be accompanied by a parent or legal guardian at all times

What to Bring/Wear

Must have valid government approved ID with you on the day of shooting

What is Supplied

MP5 (25 Rounds)
UZI (25 Rounds)
SAW (40 Rounds)
9mm Hand Gun (10 Rounds)
Targets
T-Shirt

More Information

Booking times are available Monday - Sunday from 10:00AM to 6:00PM
Available Dates

Why Adrenaline?
Low price guarantee
Fully flexible gift certificates
Gift certificates valid for 5 years
Certificates valid for any experience
Expert consultants
Thousands of reviews
Safe & secure shopping
FREE Shipping for orders over $119
Location
Las Vegas (Las Vegas)
Now's your chance to live out those action-hero daydreams! Feel the grip in your palm, nuzzle the butt against your shoulder, and thrill at the kick of the recoil!

And all Adrenaline firearms adventures are safe enough to be perfect for family outings and corporate events!