Advanced Snowmobile Mountain Tour, Denver - 3 Hours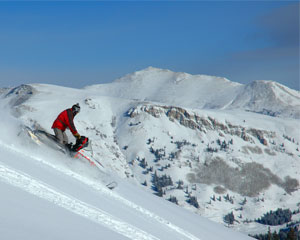 If you are looking to explore remote areas with access to back country bowls covered in fresh untouched powder then this is the tour for you.
Item: AD14727VA
Our Price:
$

250

Lowest Price

Guarantee


Description

This 3 hour extreme snowmobile mountain tour is for experienced drivers only. If you are looking to explore remote areas with access to back country bowls covered in fresh powder on your very own Polaris 550 snowmobile then this tour is for you.

Polaris 550 RMK Snowmobile
Amazing mountain top views
Unchartered remote trails

On this tour you will travel altitudes up to 12,600ft. Your highly experienced local tour guide will take your snowmobiling skills to the next level as you shred up mountain sides, down valleys and through dense pine forest trails. After your extreme adventure is over warm up with some complimentary hot chocolate and think about your amazing snowmobile experience.

Intensity: 5.0

Off the Scale You'll have to concentrate and step right out of your comfort zone to get through this one. You need to be pretty fit and possibly have done some adventure before. Adventures at this intensity level include many of our training courses due to the mental application, not just the physical, that's required. This is the ultimate rush you've been craving!

Experience Details

Fitness and Experience

Experienced riders only
Minimum age of 15

What to Bring/Wear

Warm clothing suitable for the weather on the day
Gloves, Snowsuits, Hats, Sunglasses, Insulated Boots
Camera
Goggles or eye protection

What is Supplied

Polaris 550 RMK Snowmobile
Helmets (mandatory)
Expert snowmobile tour guides
Complimentary Hot Chocolate
Insulated boots and coveralls are supplied if needed

More Information

A customary $50 per person gratuity is payable on the day and serves as tips for your pick-up driver, personal zip line and snowmobile guides
Tour begins at 9:00 AM
No transportation is provided for this tour
Guests should arrive at base camp by 8:30 AM
Available Dates

Why Adrenaline?
Low price guarantee
Fully flexible gift certificates
Gift certificates valid for 5 years
Certificates valid for any experience
Expert consultants
Thousands of reviews
Safe & secure shopping
FREE Shipping for orders over $119
Location
Leadville (Lake County)
Adrenaline offers packages for everyone. Whether you're looking to share some safe but thrilling family fun or if you think you're ready to push your skills to the next level, we have packages that will make sure your winter adventure memories will last a lifetime!