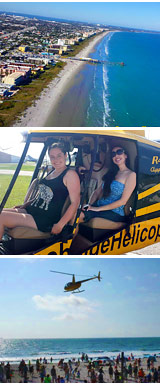 This helicopter tour will put your hair on edge. Hover high above pristine beaches with fresh Florida air blasting against your face.
That's right, this heli excursion takes you real high up with no doors! Gaze down below onto beautiful Banana River and Cocoa Beach while getting wonderful views of the Port Canaveral and the Atlantic Ocean. This Cocoa Beach helicopter tour includes:
15-minute thrilling helicopter flight over Cocoa Beach Pier
Doors removed, offering perfect photo opportunities!
1,000-foot ascent with steep banks and dropped jaws!
Don't forget your camera—with all four doors removed, you'll be able to lean right into the gilded abyss and snap some stunners. This great deal offers unsurpassed freedom and a whole lot of memories.
Book today!