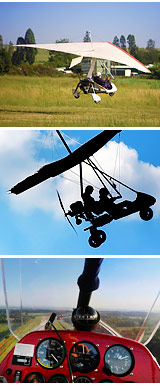 This is the ideal introduction to light sport flying. Jump in a trike with a FAA certified pilot for a 20 minute flight above the Georgia countryside.

Think of an ultralight trike as part light aircraft and part hang glider. It's navigated entirely through weight distribution. Many refer to this sport as the closest thing to human flight – you soar through the air with grace and ease!

Once you and the instructor are secure, the engine is started, the pre-takeoff checks completed, and, within a few minutes, you are lined up on the runway ready for take-off. Take-off itself is an exhilarating experience - within seconds you are a few hundred feet above the runway!

The aircraft quickly reaches a safe altitude to leave the airport. From over 500 ft in the air you get to enjoy great views of the Georgia country side. On clear days Stone Mountain, Lake Lanier, and the Georgia Mountains are clearly visible in the distance.

Book your introductory flight today!