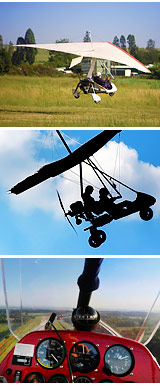 This flight is the ideal introduction to Light Sport Flying. Your FAA Certified Flight Instructor will provide a short briefing on what to expect during the flight. Then it's take-off which is an exhilarating experience; within seconds you are a few hundred feet above the runway. The aircraft quickly reaches a safe altitude to leave the airport and you are enjoying great views of the Georgia country side. On clear days Stone Mountain, Lake Lanier, and the Georgia Mountains are clearly visible in the distance.
The aircraft is a large powered hang glider and safety is our #1 concern. Light Sport Flying and the aircraft are closely regulated by the FAA. Many refer to this sport as the closest thing to human flight – you soar through the air with grace and ease!
There is time to fly around a local lake with good views of the Atlanta Drag Race Strip. Then it is back to the airport! The proper entry pattern to the airport is demonstrated followed by a smooth landing back onto the runway and a taxi back to the hangar. What a great experience to recount to your friends or post on Facebook!
Book your introductory flight today!