Biplane Aerobatic Flight Warrenton - 30 Minute Flight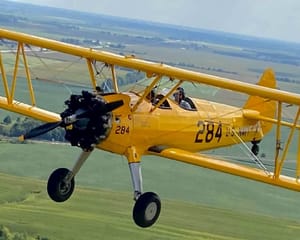 A 30 minute aerobatic fun flight in a vintage Stearman – it doesn't get much more exciting than that!
Item: BI15285PL
Our Price:
$

325

Lowest Price

Guarantee


Description

A 30 minute aerobatic fun flight in a vintage Stearman – it doesn't get much more exciting than that! This is the thrill ride you've always wanted. For daring passengers who want to know what it's like to climb, dive, roll and loop through the air above Warrenton Virginia. You'll climb to an altitude of 3000ft and then the fun begins. You'll execute a full Cuban 8, 4 point roll, some wing overs and many other aerial maneuvers.

30 minute aerobatic flight
Great views from the vintage Stearman Aircraft
You choose how intense you want the aerobatic maneuvers to be!

The thrill of flying in an open cockpit biplane is truly unrivalled. Your aircraft for this journey is renowned and flies in the Flying Circus Air Show. Feel the cool air in the open cockpit by booking you aerobatic flight in Virginia today!

Intensity: 4.0

Awesome This is getting to the pointy end. Heights, speed, endurance or a combination of all form part of this adventure. Be prepared to be challenged both physically and mentally. Bring that 'can do' attitude and maybe a change of clothes. You're about to get a taste of Serious Fun!

Experience Details

Fitness and Experience

No experience necessary
Maximum weight of 300lbs.

What to Bring/Wear

Wear comfortable clothing
Camera(s)
Enclosed footwear
Hat, sunscreen and sun glasses will help keep the sun off

What is Supplied

30 minute aerobatic flight
Amazing photo opportunities
Fly over the beautiful Fauquier County Virginia countryside in an authentic World War II PT-17 Stearman Airplane
Head gear - helmet with ear protection that permits two way communication wit h he pilot

More Information

Bookings are available Monday to Sunday
Bring your own camera and take as many photos as you'd like!
Available Dates

Why Adrenaline?
Low price guarantee
Fully flexible gift certificates
Gift certificates valid for 5 years
Certificates valid for any experience
Expert consultants
Thousands of reviews
Safe & secure shopping
FREE Shipping for orders over $119
Location
Warrenton Airport (Warrenton)
Related Experiences
With planes capable of going up to 250 mph and climbing up to 3200 feet per minute, your pilot will take you through an aerobatic routine you'll never forget. Barrel rolls, straight up loops, inverted flights, insane vertical climbs and more may all be part of a routine that is as wild or mild as you like. Book Now!