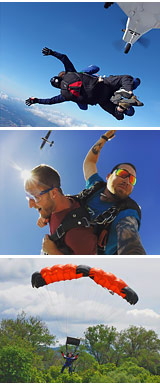 Experience the ultimate adventure with skydiving in Cloverdale, California, just a short drive from San Francisco and Sacramento. Prepare to be captivated by the breathtaking landscape as you soar 12,000 feet above the picturesque vineyards of Wine Country.
Skydiving San Francisco, Cloverdale Inclusions:
12,000ft jump
Ground training
USPA certified tandem master
Embark on this exhilarating skydiving with confidence, guided by the expertise of our skilled tandem masters. Your safety is paramount, and before taking the leap, you'll receive thorough ground instruction, ensuring you're well-versed in essential skydiving techniques and safety protocols. As the instruction wraps up, your excitement will be matched by your newfound confidence.
Strapped in with your tandem master, you'll ascend to the remarkable altitude of 12,000 feet, gazing out at the stunning Sonoma horizon. With the heart-pounding rush of adrenaline, you'll experience the thrill of freefall, surrounded by the beauty of Cloverdale's landscape unfolding below.
Located merely two hours away from both San Francisco and Sacramento, this skydiving adventure beckons thrill-seekers and explorers alike. Bookings are available seven days a week, starting at 9:00 AM, ensuring you can find the perfect time to embark on this once-in-a-lifetime skydiving experience.
Capture every heart-stopping moment and breathtaking view with our optional video and photo package, available for $109 and payable on the day of your jump. Make the most of your skydiving adventure by reliving and sharing the incredible memories you'll create.
Elevate your journey with us, as you take the leap into the skydiving paradise of Cloverdale, California. It's not just a jump; it's an unforgettable experience that will stay with you forever.
Book your Skydiving San Francisco, Cloverdale - 12,000 ft Jump today!