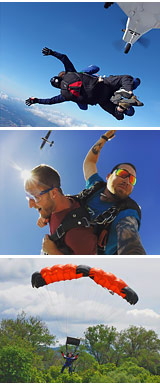 Go tandem skydiving in the heart of Wine Country! Take in amazing views of surrounding vineyards while experiencing the thrill of a lifetime.
You will be jumping with the best tandem masters around so have no worries. You will participate in a brief ground instruction where you will go over proper skydive techniques and safety procedures.
Once the instruction is finished you be extremely confident about your jump. Next you will harness up with your tandem master and head up to altitude for your big jump!
12,000ft jump, set against the stunning Sonoma horizon
Located just 2 hours from San Francisco and Sacramento
USPA tandem master
An experience of a lifetime!