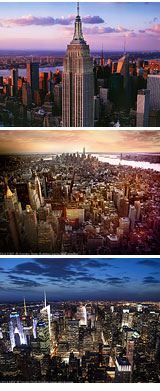 The Empire State Building is quite possibly the most iconic landmark in the world. Find yourself in the center of it all at the highest open-air observatory in all of New York. The 86th Floor of the Empire State Building has been featured in countless movies and television scenes – get your access today!
The Observation Deck wraps around the building's spire, providing 360-degree views of New York and beyond. From up here you'll get one-of-a-kind views of Central Park, The Hudson River and East River, The Brooklyn Bridge, Times Square, The Statue of Liberty, and much more. Our multi-media handheld device teaches you about your view from every direction. Then take advantage of our high-powered binoculars to get a closer look.
Easy-Access - Skip the box office and head straight to the gates!
Go 86 floors high for an unrivaled view of NYC
Learn about NYC thanks to an interactive audio device
See for yourself what makes the Empire State Building Experience a must-see on your next NYC visit.