Receive $15 OFF when you spend $79 or more in one transaction. Simply enter the promo code 15FINAL at checkout. Limit of one promo code per purchaser per transaction. Not valid for Gift Certificate redemptions or in conjunction with the $250 Gift Certificate promotion.
Free Exchanges on all Gift Certificates
14 Day Returns on all Gift Certificates
Gift Certificates valid for 5 years
Free Shipping for Gifts over $119
Safe & Secure online Shopping

Sailing, Manhattan Daytime Statue Sail - New York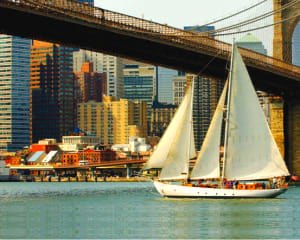 Item:
YA15450CH
Location: North Cove Marina (New York City)
Our Price:
$

45
$25 child (3 - 12)

Safe, Secure Shopping
Description
Explore the bounty and beauty of New York harbor on a classic Newport-style sailing yacht! Take in the iconic sights of the New York City skyline while harkening back to the golden yachting days of old on the historic Shearwater.

Built in 1929 of hand-hewn native Maine white oak and designed by famed naval architect Theodore Donald Wells, this 82 foot schooner has a rich American history as not only a racing yacht that has circumnavigated the globe and transited the Panama Canal twice but also as a Chesapeake Bay defense patrol boat during World War II.

Designated a national landmark in 2009, the Shearwater offers passengers the resonant atmosphere of old-fashioned sailing as they revel in the modern marvels of the Manhattan skyline and, most especially, in the beauty of Lady Liberty.

1 hour 30 minute sail of New York Harbor, the Manhattan shoreline, Ellis Island, and the Statue of Liberty
Unparalleled views of the harbor and city
Spacious and comfortable decks with seating

With 2,550 square feet of rig under full sail, there's no better way to view the magic and wonder of the Statue of Liberty and the harbor she overlooks. Whether you're ready to try your hand at raising the sails or you're looking to relax and enjoy the waters of the harbor, this Manhattan Daytime Statue Sail is not to be missed.
Intensity:
3.0

Next Available Dates
24 Oct 16 (Monday)

Places

Book now

25 Oct 16 (Tuesday)

Places

Book now

26 Oct 16 (Wednesday)

Places

Book now

27 Oct 16 (Thursday)

Places

Book now

28 Oct 16 (Friday)

Places

Book now

29 Oct 16 (Saturday)

Places

Book now

30 Oct 16 (Sunday)

Places

Book now

31 Oct 16 (Monday)

Places

Book now
Reviews
My husband and I had one of the best weeding Anniversary celebration. Just been in the water drinking champagne, with a nice breeze cool crew and, have I mention the view? Awesome view. Difitnely I would recommend it if what you'r looking for is to have a silence moment where all u can hear is the sound of the sea. Thank you
What a unique way to spend a Sunday afternoon with my family. Definitely doing it again!
Experience Details
Fitness and Experience
No experience required, you can join in on the activities or just sit back, relax and enjoy the cruise
What to Bring/Wear
Dress for the weather on the day
Bring sunscreen, hat and long sleeves
Wear comfortable flat-soled, non marking shoes (runners / joggers are ideal)
Your camera to capture all the sights
What is Supplied
1hr 30min sailing experience on the Shearwater, NYC's only floating national landmark
Unparalleled views of the Statue of Liberty, the city, and the harbor
Life jackets available to all passengers, required for children 12 and under
More Information
Trips are available daily from April 24th to October 11th
Trips depart Monday through Saturday at 12:30pm and 2:45pm, Sunday at 2:00pm
There is a bar on deck featuring alcoholic and non-alcoholic beverage selections
Customers are welcome to bring their own snacks/food
Children under 2 are welcome for $15 reduced price
Related Experiences or Products
"hark, now hear the sailors cry,
smell the sea, and feel the sky
let your soul & spirit fly, into the mystic..."
- Van Morrison

What is it about being on the water that touches our souls?

Is it the powerful roll of the sea or flow of a might river that connects us to the rhythms of the earth and the universe itself?

Is it the captivating and inspiring way that water and light play together in endlessly fascinating variation?

Is it the romantic call of adventure that has drawn Vikings, Conquistadors and Argonauts down through the ages?

Whatever it is, we all know that every event, experience, milestone seems even more special, more soul-stirring, more memorable, when you...just add water.
Why Choose Adrenaline?
Low price guarantee
Fully flexible gift certificates
Gift certificates valid for 5 years
Certificates valid for any experience
Expert consultants
Thousands of reviews
Safe & secure shopping
FREE Shipping for orders over $119