Hot Air Balloon Ride Auburn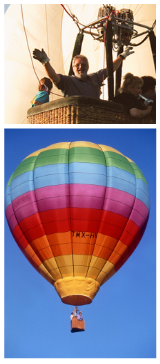 Float along with the wind over Maine's lakes and stunning natural landscapes on a hot air balloon ride.
Hot air ballooning in Auburn, Maine is an ideal way to spend a sunrise or sunset in an unconventional way – by defying gravity. As you gently roll along, the FAA-certified pilot will take you on a 1 hour flight that culminates with a Champagne toast.
A hot air balloon stays afloat in the cooler air surrounding it due to the buoyant force on it. From just above treetop level, to thousands of feet in the air, your experience pilot will make this trip memorable.
A hot air balloon ride in Auburn, ME
A Champagne toast
FAA certified pilot
The hot air ballooning journey ends with the chase vehicle bringing you back to your vehicles at the departure point. Enjoy a carefree sunrise of early evening with the once-in-a-lifetime experience of hot air ballooning in Maine.
Make the memory of a lifetime and book
Hot Air Balloon Ride Maine
today!