Skydiving in Chicago Tandem Jump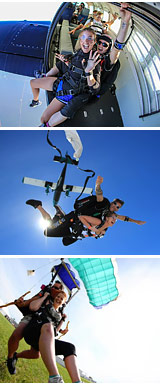 Skydiving is an experience unlike any other. The thrill of free falling thousands of feet is a feeling you will remember for the rest of your life.
Even with all the insane emotion and excitement attached with skydiving it is also an extremely safe and easy experience; especially during a tandem skydive with one of our professional instructors who have logged over 15,000 jumps!
During the briefing session at the jump facility you and your tandem pro skydiving instructor will rehearse a few different techniques that will ensure your safety and knowledge of how to properly jump.
The ground training session will also cover all methods of canopy control and safe landing actions.
As soon as your instructor is confident that you are capable of jumping safely it is time for the 15 minute flight to an altitude of 9,000ft. The height of 5 Willis Towers! After a final check it is time to take the quick way down.
As the plane's hatch slides open the adrenaline starts to pump and it is now go time! Within seconds you will reach free fall speeds of 120mph for approximately 40 seconds!
This is the moment where humans get the chance to feel what it is like to fly. This is a thrill only the brave can experience. As the parachute deploys the joy ride begins. You will see the world from a vantage point you have never witnessed before. This is truly a tranquil moment in your life where you feel at total peace and a million miles away from troubles and worries.
As you approach the ground your instructor will teach you how to control the parachute's direction and how to decrease your descent speeds. Once you touch down the first thing you will do is catch your breath, smile and have an overwhelming feeling of pride and accomplishment and rightfully so, because this experience is not for the weak, but for the brave.

Book your Chicago Tandem Jump today!