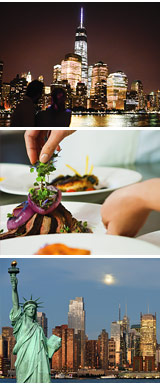 This Manhattan dinner cruise combines world-famous sites with word-class bites—it's heavenly dining on the Hudson for three amazing hours!
Trip highlights include the Statue of Liberty, Brooklyn Bridge and Ellis Island while the menu shines with culinary gems such as the glazed duck breast with tamarind and sweet potato, roast chicken with zucchini, carrot sauce, quinoa and wheat berries or the perfectly-seared filet of AAA beef with charred grape tomatoes.
Hop aboard a luxury yacht over 150 feet long—sky deck, custom lighting, fully-stocked bars…the whole nine yards.
Enjoy cocktails and canapés while taking in magical views from the deck.
Next, be seated for a three-course, table d'hôte feast.
After dining, a dance floor and live DJ amp up the party vibe and ensure your evening ends in a bang!
It's pretty much the perfect night: the New York skyline's famous glimmer stretches in the distance and bounces off the sprawling river road. It shines almost as brightly as that moon-lit special someone sitting across from you. The perfect tunes set the mood as your friendly waiter strolls over with one of the most delicious meals you're to have in recent memory. It doesn't get much better than this.