The Cayman may be Porsche's smallest vehicle but that's what helps it pack such a punch on the track. Get behind the wheel of a Porsche Cayman GTS for 5 laps around an exclusive roadcourse track at Las Vegas Motor Speedway and enjoy a white-knuckle experience.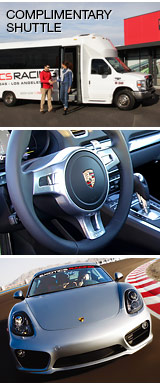 Pickup and drop off included from the Aria Resort and Casino Tour Lobby area!
Driving instruction in a classroom environment
Learn driving position, braking and accelerating technique
5 Laps in a Porsche Cayman GTS
Drive on a course with 7 turns, banked corners and a 1,800ft main straight-away
After your classroom instruction where you'll learn how to maximize the power of your Porsche for the most thrilling drive, an instructor will take you for a discovery lap. Enjoy the ride and take notes – these guys know the track like the back of their hand and you can learn a ton of tricks.
From there, it's pure adrenaline-fuelled thrills as you take the wheel and enjoy 5 laps in a Porsche Cayman GTS.