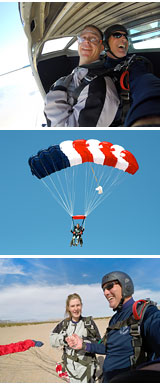 Your Las Vegas skydive adventure starts with a complimentary shuttle pick-up at your hotel (if needed), and then transports you down the strip to the closest dropzone to Las Vegas. Once you arrive at the dropzone you will go through ground training with your USPA certified tandem master where you will learn everything you need to know about safety and technique.
Jump session will start at 9:00AM and pick-up will be at 8:15AM
You will have plenty of time to ask as many questions as you want to make sure you are totally comfortable when doing your tandem jump. You will be attached with a tandem master for the duration of the jump, so sit back enjoy the jump!
Pro Video and Photo package included!
Free shuttle pick-up and drop-off from your hotel
Safety and ground training
Located just 20 minutes away from the strip
50 second freefall!
You'll reach the 10,000-foot mark in just 10 minutes! There, you and your certified tandem partner approach the hatch and face the awesomeness of Las Vegas' open air.
Exposed to nothing but the vast, blue skies and desert below, you take the plunge. Freefall for a hair-raising 45 seconds. What's best, at 10,000 feet you get to experience the full thrill of the jump for a remarkably affordable rate.
Expect your fair share of butterflies...but that's all part of the fun!