Helicopter Tour Oahu Blue Skies
Hawaii's most populated island is also one of the state's richest and most diverse when it comes to ecology and scenery. This Oahu helicopter tour takes you over the island's most impressive sites and exposes you to vistas so beautiful you'll pinch yourself!
See America's lushest rainforests and richest valleys. Explore coral reefs and extinct volcanos. Hover high above white sandy beaches. Learn some history as you head over important landmarks including Pearl Harbor. This 45-minute excursion gives you a taste of everything!
Depart from Honolulu in an Eco-Star helicopter and head on over to Waikiki Beach!
Appreciate the sandy shorelines, wave at the beachgoers below and get remarkable views of Waikiki's coral reefs!
Next stop is the Diamond Head Volcano and its glorious crater draped with striking green vegetation.
Hanauma Bay and the white-sand Waimanalo Beach are up next.
From there, you'll fly out to Mokoli'i, the 12.5-acre islet formally known as the Chinaman's Hat.
While circling Mokoli'i, you'll also see Kaneohe Bay's coral formations.
On to Nuuanu Valley Rainforest and the famous Sacred Falls!
After taking in two of the most dazzling landscapes in America, you'll move on to the Dole Pineapple Plantation.
Continue to what many consider the tour's major highlight, Pearl Harbor!
You'll also see the Arizona Memorial and the Battleship of Missouri.
In-flight narration makes the adventure all the more noteworthy. You'll look and learn, ooh and aah and snap enough photos for more than a lifetime of memories!
Some of the sights you'll see include: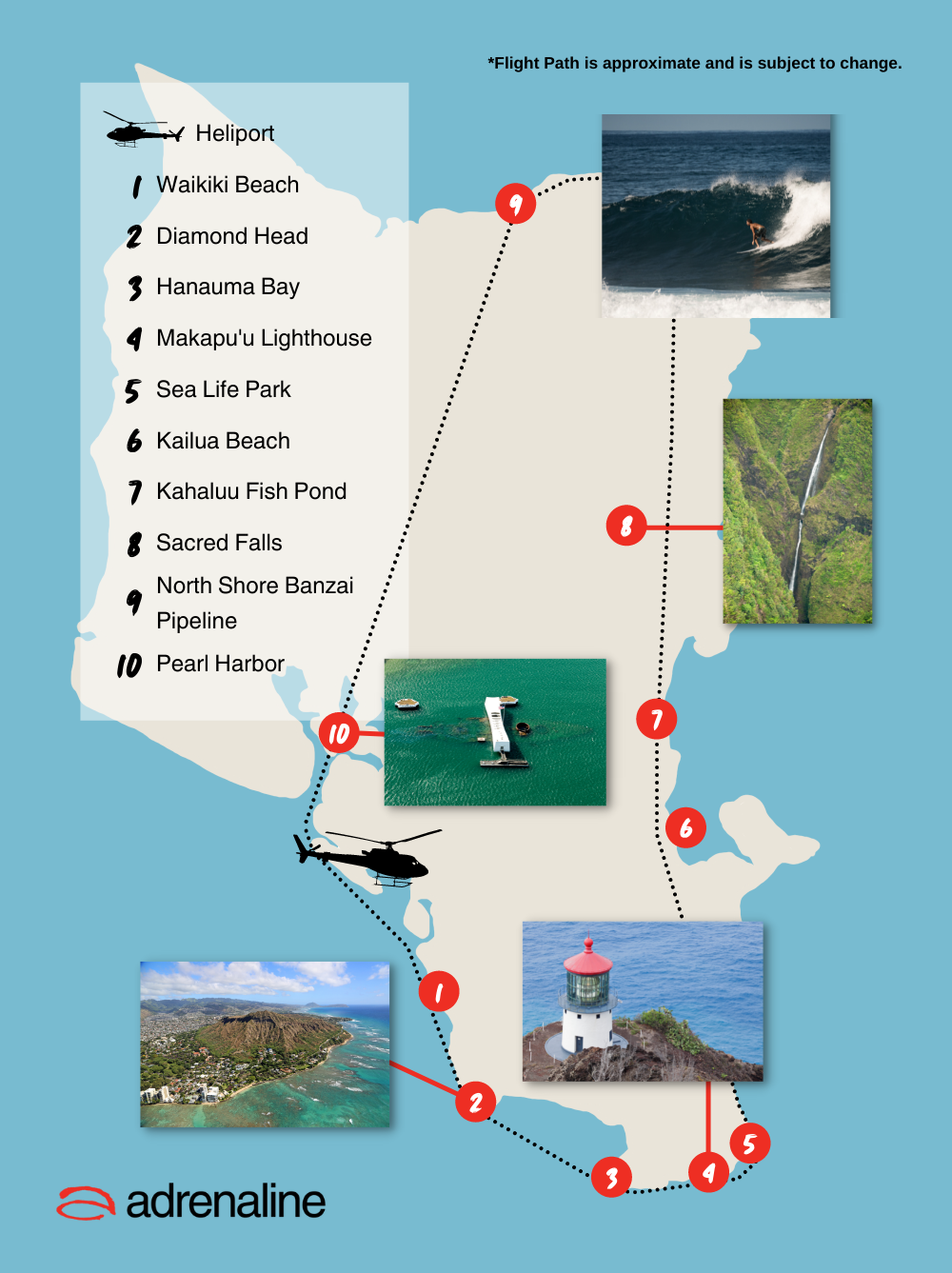 This is the perfect way to experience Honolulu and the Island of Oahu and its beauty all in one journey and there's no more to pay.
Book your Blue Skies Oahu ride now!