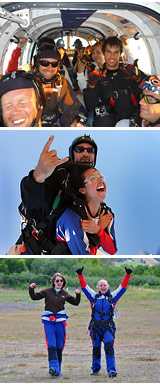 Some people laugh off the scenario. When asked if they'd ever jump from a plane, they'll quickly respond with the standard "not in a million years". They'll list a number of adventures they might one day consider but stress that free falling from over ten thousand feet isn't one of them. And that's fine. For them. For the rest of us, for those of us who see the unfathomable as a proud rite of passage, this Bay Area skydiving adventure is a must. This tandem jump includes:
15,000ft jump, set against the stunning Sonoma horizon
Located just 2 hours from San Francisco and Sacramento
USPA tandem master
An experience of a lifetime!
When you arrive you will participate in a quick ground lesson with your assigned tandem master and go over all safety procedures. Then, it's up to the clouds, high above the Russian River and Alexandra Valley - 15,000 feet high to be exact. This altitude is considerable for tandem dives, and gives your jump added value. Compared to your standard 12,000ft dive, this one offers an additional 20 seconds of freefall! That's over a full minute of heart-pounding weightlessness.