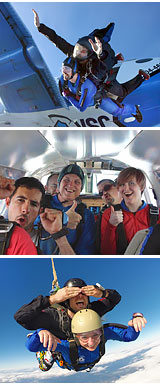 Skydive from 13,500ft above Virginia and feel the rush of reaching 120mph.
The student actively participates in directing the parachute's flight towards the landing area. This method requires the least amount of training, usually about 20 to 30 minutes.
You can relax knowing that you are attached to a United States Parachute Association certified instructor who will handle all the details.
Skydive from 13,500ft
Reach terminal velocity – 120mph!
Free fall for approximately 45 seconds
USPA certified instructors
Your first skydive will always be remembered, so let the experts at this drop zone in Petersburg, Virginia take you on life's ultimate thrill ride.
Book your experience now!