Zip from one platform to the next on a stunning canopy tour chock full of treetop games and thrilling ziplines! This Orlando excursion combines two action-packed zipline courses in one of the city's most celebrated adventure parks.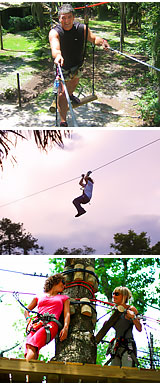 For the first stretch, you'll work all muscle groups as you climb, swing and keep your footing conquering 30 obstacles. As you progress, the course gets slightly more challenging to keep you on your toes. Part two of the journey takes you deeper into the jungle where you'll discover an additional thirty high-intensity games and two 500-foot ziplines!
Take a 3-hour Orlando canopy and zipline adventure.
Get to know your equipment with a quick safety lesson.
Explore two canopy courses with different intensity levels.
Navigate through more than 60 treetop games.
Traverse wobbly bridges and climb exciting obstacles.
Let gravity guide you on 9 ziplines including two 500-foot thrill rides.
Bond with friends and family as you cheer each other on!
Whether you're hunting for the perfect team-building exercise or looking for a weekend date plan that veers from the beaten path, this canopy tour brings everyone closer together. Book the adventure today!