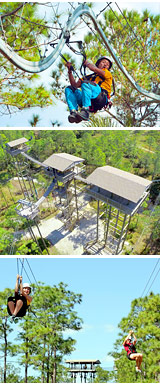 Three Unique Rides in One Convenient Location!
Brace yourself for a day like no other. You'll get to experience 3 totally new sensations. That means 3 times the heart-pumping fun you're looking for.
The Rattlesnake Roller Coaster: Launch from a 65ft high platform and fly at speeds up to 20mph through the treetops. This zipline is inspired by a rollercoaster so you get that wonderful feeling you come to expect from the world's biggest coasters without having to wait in line!
The Panther Pounce: Take the ultimate leap from a 78ft platform and freefall to the ground below – of course doing so in a safely controlled environment. This is one-of-a-kind!
The Pereguin Plunge: The longest single straightaway zipline in Florida! Soar 30mph down 1300ft!
Three fun adventures all rolled into one neat package – it's fun from start to finish.
Book your thrill pack today!