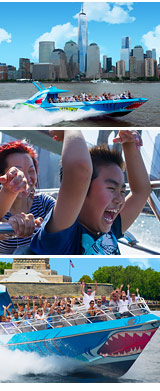 What's faster than a New York minute? How about a New York minute on an exhilarating speedboat ride?
In fact here, you get 30 of them! This New York Harbor speedboat tour is a guided thrill ride to the Big Apple's most celebrated sites. Zoom around the tip of Manhattan, rocket up to Lady Liberty and learn all about this special city at a pace to be reckoned with!
Here's what to look forward to:
The SHARK speedboat (painted fangs and all) hits speeds of up to 35mph and sits up to 135 passengers. Bumping, on-board tunes keeps the adventure lively.
The guided cruise takes you to the Statue of Liberty, the Brooklyn Bridge, One World Trade Center and a bunch of other big-city must-sees!
The ride slows down at the Statue to encourage some selfie opportunities. The friendly staff will gladly take a few group photos at your request!
This eye-opening trip perfectly captures the tempo of a city that never slows down. Be sure to dress for the occasion, especially if you're sitting in the splash zone!