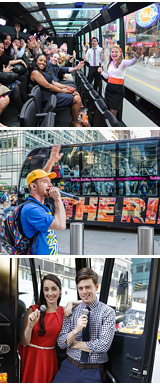 Board THE RIDE and see New York City's iconic landmarks like never before. Part Tour. Part Show. Total Entertainment! Experience the Ride!
When stepping foot on THE RIDE you'll notice that this isn't you average bus tour. The multi-million dollar coach features side-facing seating with floor-to-ceiling glass windows. You're not looking forward toward the bus but you're position perfectly to see straight onto NYC without any obstacles in the way.
This ride is unlike anything else, so here's a quick rundown of what to expect:
A scenic bus tour (75 minutes)
Custom built coaches with 40 plasma TV screens
Hilarious comedic hosts
5-7 pop-up presentations along the 4.2-mile route
See Times Square, the Empire State Building, Chrysler Building and more!
Of the many unique aspects of this ride, probably the most unique thing of all is the pop-up presentations.
Along the way, 5-7 street performers will be on the street waiting to entertain your bus. Think actors, singers, dancers and instrumentalists waiting to entreating you!
Get front row seats to this groundbreaking theatrical experience! Book now!