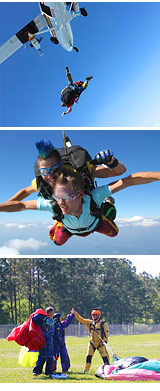 Take on some big sky in the Big Easy! This New Orleans skydive is a cut above, sending you 10,500 feet heaven-bound. This long stretch gives you much added air time — the freefall itself lasts just about a minute!
For the real adrenaline enthusiast there's only one way to test your limits. Whether it's your first time jumping out of a perfectly good plane or even if you're a seasoned pro - there's just no comparison to the sensation of skydiving. Here's how it all goes down:
Meet your diving partner. The team's composed of Army Parachute members and record holders!
Learn all the ins and outs with a brief safety instruction.
No turning back now—hold your breath, count to five, and feel the rush of a lifetime as you and your tandem jumper let gravity take over.
Freefall for over a minute. Once the chute's deployed, you'll enjoy a five- to seven-minute drift to the ground below.
It really is one of the Nation's most celebrated skydives and without a doubt, NOLA's biggest thrill! Conveniently, it's just a quick drive from anywhere on the Gulf Coast and recognized as a top Rated USPA Drop Zone. Get your jump on today!
Book your New Orleans Skydive Now!