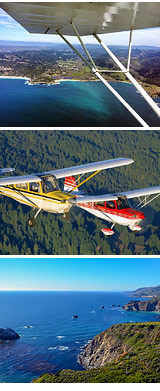 The Pacific Coast from hundreds of feet above offers some of the most memorable sights in America!

This Monterey Bay scenic flight soars high over a spectrum of landscapes and waterways, including Lover's Point and 17-Mile Drive.

Check out the itinerary:
Start off at the Bay where you'll take in the bustling beaches and deep blue waters populated with beautiful marine life.
Follow the peninsula to Lover's Point, a top spot for swimming and boating.
Next stop is 17-Mile Drive—a stretch passing through Pebble Beach and Pacific Grove, known around the world for its pristine golf courses.
Then it's on to historic Carmel, a renowned mecca for artists and nature photographers.
And just in case you missed something, you'll loop back around for the return trip!
While peering over to the Pacific, be sure to keep your eyes peeled for dolphins, grey whales and humpbacks!