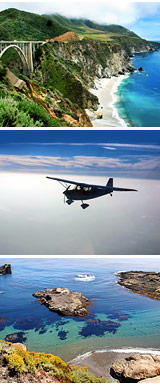 To really appreciate the sprawling beauty of Monterey Bay, you need to discover it from the heavens.
This scenic flight for two shows you it all—travel from the South West to 17-Mile Drive, past Carmel, Point Lobos and beyond! What's best, you'll even be given the opportunity to FLY THE PLANE!
Here's what to expect:
Depart from Monterey Peninsula Airport and swoop over some world-renowned golf courses.
Next stop is the 17-Mile Drive followed by historic Carmel and Point Lobos Peninsula (as you soar over this remarkable nature reserve, be sure to keep your camera handy!)
From there, it's on to Big Sur Coast, home to famed US Highway 1 and powerful mountains that swoop down into the coastline.
Take the yoke and navigate along the remarkable flight path!
No flying experience necessary. You'll get the hang of it after a quick tutorial.
And if you're a marine lover, know it's not uncommon to spot majestic whales and dolphins going about their business off the coast!
Can you think of a better way to spend an afternoon than exploring some of the top natural sights in all of Cali AND having the opportunity to play pilot?