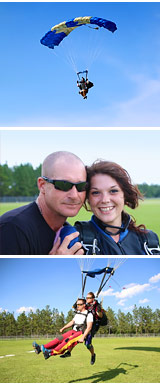 Fourteen-thousand feet. That's quite the distance! Around half Mount Everest's height. Now visualize yourself gazing over such an incredible drop, palms sweaty, wind blasting against your face with its almost deafening whirl.
You've made it this far and there's no time for second guessing. Nothing left to do but let gravity take over...
Skydive Mississippi's glorious blue yonder at a renowned drop zone. It's conveniently located just a few hours from New Orleans, Slidell, Baton Rouge, anywhere in the Gulf Coast Region!
Meet up at the drop zone, where you'll receive a brief safety walk-through and meet your tandem diver, licensed by the US Parachute Association.
Hop onto the South's largest and fastest twin-turbine airplane that takes you a soaring 14,000 feet in a mere 14 minutes.
This is the ONLY dive in the area that lets you dive from such a distance.
Freefall for a heart-stopping 50 seconds!
The freefall here is more than triple the duration of other tandem drop zones! And it's not just about the freefall—the entire jump lasts around five to seven minutes, which means you'll have plenty of time to appreciate the beautiful vantage point (once you catch your breath, of course!).