Aerobatic Flight Lesson, San Francisco - 30 Minute Flight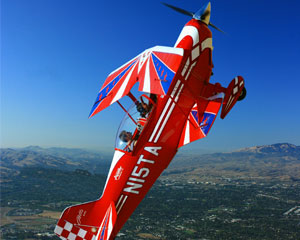 This 30 minute knock-your-socks-off aerobatic thrill ride is sure to get your adrenaline pumping.
Livermore Municipal Airport (Livermore)
Item: AE14741RO
Safe, Secure Shopping

Description

This 30 minute knock-your-socks-off aerobatic flight lesson is sure to get your adrenaline pumping. You will be flying a Pitts Special S-2C, the ideal aircraft for extreme stunts. Your pilot will start off with mild maneuvers and get as wild as you want, not to mention you will be handling the controls during some of these extreme tricks. That's right, you will be in control of your aircraft as the plane loops and rolls through the California skies high above the Sierras.

Pitts Special S-2C aircraft
Experience Loops, rolls and vertical climbing
Views of the Sierras and Mt. Diablo

You will receive a thorough briefing before the flight to prep you for the experience, so you will be completely confident when taking the controls mid-flight. Create your own roller coaster during this amazing adventure flight that you will be talking about for weeks!

Intensity: 3.0

Exciting Be prepared to get pretty physical. This adventure will be interactive so concentration and focus are a must. The hairs on the back of your neck will tingle as your comfort zone is nudged a little. Go in with an open mind and a focused attitude. Enjoy!

Reviews

I had the best time of my life and will be back

The pilot steve was an absolute legend..really nice guy...I never felt safer....even though that was the craziest thing Ive ever done... Im surprised its not more expensive considering how good it was fucking 10 out of 10

Experience Details

Fitness and Experience

No level of fitness is required
Maximum weight of 240 lbs.

What to Bring/Wear

Clothing appropriate for the weather on the day
Rubber soled enclosed footwear
Camera
Family and Friends

What is Supplied

30 minute flight
Controlling the aircraft during stunts
Full safety briefing

More Information

Flight times are available 7 days a week, 8:00 AM - 6:00 PM
Why Adrenaline?
Low price guarantee
Fully flexible gift certificates
Gift certificates valid for 5 years
Certificates valid for any experience
Expert consultants
Thousands of reviews
Safe & secure shopping
FREE Shipping for orders over $119
Location
Livermore Municipal Airport
With planes capable of going up to 250 mph and climbing up to 3200 feet per minute, your pilot will take you through an aerobatic routine you'll never forget. Barrel rolls, straight up loops, inverted flights, insane vertical climbs and more may all be part of a routine that is as wild or mild as you like. Book Now!