The Porsche 991 Turbo S is the supreme European racecar. To get your adrenaline-fix while in Vegas, jump behind the driver's wheel for 5 laps. It has a twin-turbocharged engine that let's this baby go from 0-60mph in 2.6 seconds. That is some serious acceleration power!
Pickup and drop off included from the Aria Resort and Casino Tour Lobby area!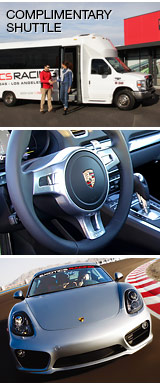 Driving instruction in a classroom environment
Learn driving position, braking and accelerating technique
5 Laps in a Porsche 991 Turbo S
Drive on a course with 7 turns, banked corners and a 1,800ft main straight-away
With all that horsepower and acceleration capabilities, the Porsche is a force to be reckoned with. You'll start off with classroom instruction to get you up to speed and then be shown the course in the passenger seat of a Porsche Cayenne. Then, the instructor jumps into the passenger seat of the Porsche 991 Turbo S and it's your turn to take the wheel.
What better way to experience the turns of a real racetrack than with the all-wheel-drive traction system of the Porsche 991 Turbo S? This car has style and substance!