Receive $15 OFF when you spend $79 or more in one transaction. Simply enter the promo code 15FINAL at checkout. Limit of one promo code per purchaser per transaction. Not valid for Gift Certificate redemptions or in conjunction with the $250 Gift Certificate promotion.
Free Exchanges on all Gift Certificates
14 Day Returns on all Gift Certificates
Gift Certificates valid for 5 years
Free Shipping for Gifts over $119
Safe & Secure online Shopping

Aerobatic Flight Las Vegas, Extra 330 or Waco - 25 Minutes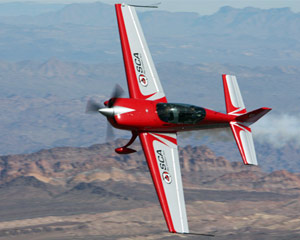 Item:
AE14881RO
Location: Henderson (Las Vegas)
Our Price:
$

414

Safe, Secure Shopping
Description
Spin, loop, and roll like a master fighter pilot, in our "roller coaster in the sky"! That's the heart-racing acrobatic, fun you can expect!

If you've ever been to an air show and marveled at the speed, precision and death-defying maneuvers executed by master pilots and imagined yourself at the controls...imagine no more!

You'll fly in either the brand new Extra 330LC or the Waco Classic YMF-56 open cockpit biplane!

Loops, rolls, Cuban 8's, stalls, hammerheads, tail slides, spins and a Lomcevaks. Don't worry if you don't know what all these maneuvers are now...we promise that once you perform them pulling up to 8 times the force of gravity...you will never forget them again! And we pack them all into one 25-minute adventure that re-defines the term "thrill ride".

Book your ride now.
Intensity:
4.0

Experience Details
Fitness and Experience
No level of fitness is required
Minimum 18 years of age
Must weigh 240 lbs. or less
Must be 6'3'' or under
What to Bring/Wear
Clothing appropriate for the weather on day (dresses and skirts are not suitable)
Rubber soled enclosed footwear
Camera for ground shots (in-flight pictures are not allowed as this is an aerobatic flight)
Family and friends
Plenty of courage!
What is Supplied
25 Minute Aerobatic Thrill Ride in a Waco or Extra 300
Complimentary Transportation
15 Minute Aerobatic Briefing
Fly with a Trained Instructor Pilot
SCA Heritage Museum Access
More Information
Flights are available 7 days a week at 8:00 AM, 10:00 AM, 12:00 PM, 2:00 PM and 4:00 PM
Related Experiences or Products
With planes capable of going up to 250 mph and climbing up to 3200 feet per minute, your pilot will take you through an aerobatic routine you'll never forget. Barrel rolls, straight up loops, inverted flights, insane vertical climbs and more may all be part of a routine that is as wild or mild as you like. Book Now!
Why Choose Adrenaline?
Low price guarantee
Fully flexible gift certificates
Gift certificates valid for 5 years
Certificates valid for any experience
Expert consultants
Thousands of reviews
Safe & secure shopping
FREE Shipping for orders over $119