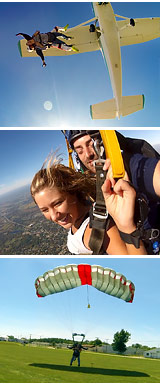 Skydiving is the adventure of a lifetime. Experience life's ultimate thrill at this centrally located dropzone in Owosso.
Travel 10,000 feet above Owosso for a jump that gives you 35 seconds of freefall at speeds of up to 120mph!
Your experience starts with an introduction to your tandem master – a professional skydiver who has jumped thousands of times. He'll show you're the ropes and teach you the basics: how to position your body upon exiting the aircraft, canopy control and more. Once you're confident, it's time to suit up and climb to altitude.
Here's your itinerary:
Make your way to the dropzone for a thorough ground lesson
Get geared up and set off 10,000 feet sky high!
Freefall for 35 seconds before deploying your own chute
Drift for 5mins back to the world below
And while the first minute may feel like an eternity, the following five after chute deployment offers a well-earned breather. Once you touchdown, you'll be elated for weeks to come!
Book today!