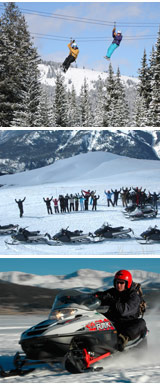 Take in the Rocky Mountains like never before; zip line and snowmobile through the trees, forest trails and across mountain slopes for the first time ever. This 2,000 acre private property has just opened for the public to explore and hosts magnificent views from 13,795 feet up of Mt. Elbert, Mt. Massive and Mt. Arkansas.
300ft high zip lines
Side by side zip lines
Breathe taking views of the Rocky Mountains
Complimentary lunch and hot chocolate
Forest snowmobile trails
After you check into base camp at 10,000 feet, snowmobilers will participate in a brief safety course through the surrounding meadows.
From there you will head 1,000 feet up the mountain side shredding through snowy paths, dipping down meadows and cruising back-country bowls. Along the way you will stop for a complimentary lunch and hot chocolate at the yurt.
Next adventure up is the extreme zip line tour. As your Snow Cat climbs up the mountain side 1,000 feet your charismatic driver will entertain you with stories and fun facts about the area while you take in the breathtaking views. This is a great time to get some awesome photos of the serene landscape. At 11,000 feet you will reach the first of 6 take off platforms. Each platform offers different features of excitement including high speeds, various terrains, and adrenaline pumping heights. Some cables are 300 feet off the ground and over 850 feet long!