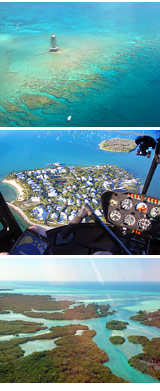 It's a perfect day in Key West—beachgoers flood the sandy shores while palm trees lazily sway in the subtropical breeze. Meanwhile you're flying high, hundreds of feet above the pristine landscape and taking it all in from a bird's eye view.
This Key West Helicopter ride offers up some of the very best eye candy in the Sunshine state.
Strap into a high-performance R-44 Raven II with big windows that stretch out around you. Gaze upon the bustling beaches and waters so blue they're almost unreal.
5-minute Helicopter ride over Key West
Views of Key West's historical landmarks
Perfect photo opportunities from 1,000 feet above the sea!
The flight takes you six miles along Key West, which is far enough to perfectly capture the magnificent vistas but not so far that you have to block out the entire afternoon to do so. It's a quick, five-minute trip (and great deal!) to help complement the flawless day.
Book your Key West Helicopter ride now!