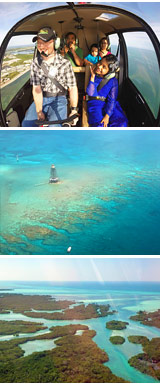 Explore a remarkable 10-mile stretch of marine life with this overhead eco tour. This Key West helicopter ride gets you acquainted with a cast of local sea creatures including dolphins, stingrays, sea turtles and sharks.
The waters are so crystal clear you'll be able to gaze deep down below the surface, all from the comfort of your air conditioned Robinson R-44 Raven II.
Your Key West helicopter eco tour includes:
10-minute Key West helicopter ride in an R-44 Raven II
10 miles of abundant marine life including dolphins and sharks
Photo opportunities of sunken ships, manmade reefs and more!
Apart from the busy marine life, you'll also get the opportunity to snap some shots of sunken ships and manmade reefs that play home to a spectrum of colorful fish!
Book your helicopter ride now!