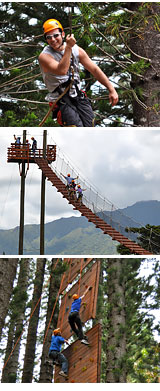 The most adrenaline-filled excursion on Kauai, this zipline eco-adventure includes zips, canopy bridges, monster swings, climbing walls and a rappel for the grand finale. From check-in to check-out, this experience is a pure thrill ride.
Start your adventure with 3 zipline runs combined with 2 canopy bridges. The zipline course is located in a magnificent Norfolk Pine forest that is surrounded by thousands of acres of the beautiful and historic Grove Farm Sugar Plantation and the Halenanahu Reservoir. You will have outstanding views of Mt. Kawaikini (Kauai's tallest mountain), Mt. Waiale'ale (wettest spot on earth), even all the way down to Mt. Kahili and Mt. Kalualea.
A 4.5 hour eco-adventure full of thrills!
3 ziplines and 2 canopy bridges
60 foot wall climb
60 foot Monster Swing
50 or 100 foot rappel
Next up? Scale a gigantic 60 foot rock climbing wall. You don't need any previous experience as a friendly guide will be there literally teaching you the ropes.
Once you reach the top it's time to experience your next thrill: a giant 60 foot Monster Swing. This awesome drop promises a sensation like no other. Finally, finish your tour with a 50ft or 100ft rappel!
There's so much to do on this zipline eco-adventure on Kauai so book today!