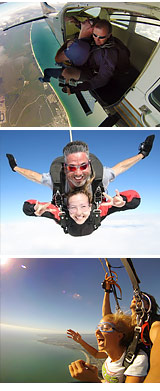 See both Galveston Bay and the Gulf of Mexico with this 11,000ft skydive outside of Houston. This jump offers unbeatable views to go along with the thrill of a lifetime. Jump Crystal Beach!
The adventure of a lifetime starts out with meeting your expert instructor. They will prepare you for everything that is to come: strapping into the gear, exiting the aircraft, pulling the chute and everything else that you'll need. Of course, they'll also be joining you in the harness for this tandem jump.
11,000ft jump above Crystal Beach
Beautiful coastal views
Expert tandem masters
The excitement will build as you ascend to 11,000ft in the air. As soon as you hit altitude, a slight nudge and a thumbs-up from your instructor lets you know that it's time to head toward the hatch. Feet dangling out of the aircraft, now's the big moment.
Exiting the aircraft, you'll quickly hit speeds of 120mph.
The initial speed and sensation of free-falling make skydiving an adventure that cannot be matched. Once the instructor deploys the parachute, relax in the serenity of a peaceful canopy ride and take in the sensational aerial views.
Book your skydive now!