Receive $15 OFF when you spend $79 or more in one transaction. Simply enter the promo code 15FINAL at checkout. Limit of one promo code per purchaser per transaction. Not valid for Gift Certificate redemptions or in conjunction with the $250 Gift Certificate promotion.
Free Exchanges on all Gift Certificates
14 Day Returns on all Gift Certificates
Gift Certificates valid for 5 years
Free Shipping for Gifts over $119
Safe & Secure online Shopping

Cobra Repliracer 5 Lap Drive - Houston Grandsport Speedway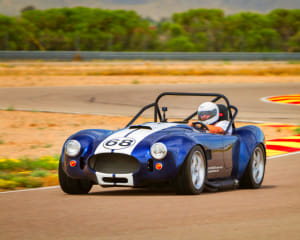 Item:
CO14909BR
Location: Houston Grandsport Speedway (Hitchcock)
Our Price:
$

325

Safe, Secure Shopping
Description
Cobra FFR Open Cockpit: The ultimate in exhilaration. Maybe you've driven some high performance machines in your day. Maybe you've even taken a professional race car out on a real track and floored it...reaching speeds over 130, 140 mph.

But if you've never experienced open cockpit racing, in a real Cobra FFR, my friend, you haven't driven yet.

Because 100 mph in an open cockpit, feels like 130 mph in a regular closed cockpit machine. 120 feels like 160. 130 feels like... well, numbers don't tell the story, you just have to experience it!

Strap into the Cobra FFR Spec Racer and get ready for a driving adventure unlike anything you, or your friends, have ever experienced!

The Car: The Cobra FFR Spec Racer with 302 cubic inch fuel injected, 5 speed with FFR race suspension with a top speed of 155 mph! The ultimate in open cockpit adventure.

The Track: Don't Settle for a Glorified Parking Lot Ride! Get real racetrack driving at Houston's Racing Adventures. The Grandsport Speedway was built specifically for the Cobra back in the 1960s. Grandsport boasts a the smooth surface and challenging corners that will challenge the driving skills of even the most experienced professionals.

Jump into the open cockpit and drive this historical speedster!
Intensity:
4.0

Next Available Dates
03 Nov 16 (Thursday)

Places

Book now

11 Nov 16 (Friday)

Places

Book now

12 Nov 16 (Saturday)

Places

Book now

13 Nov 16 (Sunday)

Places

Book now
Experience Details
Fitness and Experience
Drivers must be at least 25 years old
Must bring your valid driver's license
What to Bring/Wear
Valid driver's license
Spectators are more than welcome to come along
What is Supplied
5 Laps behind the wheel of a Cobra Repliracer
Personal instructor in the car with you at all times
Racing helmet
Safety class
More Information
Related Experiences or Products
Why Choose Adrenaline?
Low price guarantee
Fully flexible gift certificates
Gift certificates valid for 5 years
Certificates valid for any experience
Expert consultants
Thousands of reviews
Safe & secure shopping
FREE Shipping for orders over $119