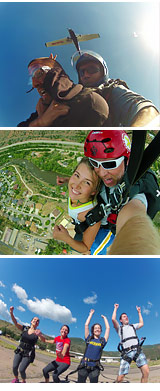 Tandem skydiving is the easiest and safest way to experience freefall. Jump in Glenwood Springs for a Colorado skydive like no other!
The experience of a lifetime starts with a safety briefing from your expert tandem instructor. Explore the ins and outs of body mechanics before suiting up. Then you'll take off to altitude, which is roughly 14,000ft above sea level!
Skydive from 14,000ft and see beautiful views of the Roaring Fork River.
14,000ft jump
Reach terminal velocity – 120mph!
30 second freefall!
In blue skies you can see Aspen and Sunlight ski resorts, the Maroon Bells, Mount Sopris the Continental Divide, Glenwood Canyon and the Roaring Fork River as it enters the mighty Colorado River.
Book your skydive in Colorado today!