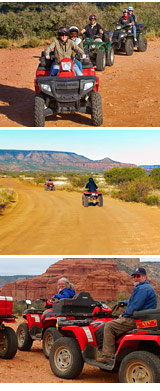 Fire up your ATV and get ready for a true outback experience during your 40 mile, 3.5 hour adventure tour through the rugged Arizona terrain.
Start off climbing the front range of the Pinal Mountains seeing historic Indian rock engravings from ancient Native Americans. From there you will pass by an abandoned way station once used by the Butterfield Overland Stage Coach Company in the 1860's. Next up is a 6 mile tour through Box Canyon.
The only guided ATV tour in Box Canyon!
All tours customized for group size and level of experience
Safety training on custom course prior to the tour
Fun for the whole family, beginners, experts and young drivers are all welcome!
As you cruise through canyon you will be surrounded by 900ft high rock walls for 3 of the 6 miles that are only 10-20 apart. This is an amazing part of the tour where you will have the opportunity to take some awesome photos.
Also, be on the lookout for wildlife as it is not uncommon to see various desert species during your adventure.